A Sisterhood of Sail
On a unique west coast charter cruise, Sistership Sailing School brings together women sailors for a week of fun and adventure -- and a chance to learn new skills.
The skies were blue and it seemed like a perfect August day to arrive in Victoria to begin a six day trip Barkley Sound. Our eight member crew was all female and had traveled from such diverse places as St. Louis (Veronica), Anchorage (Kathy and Cherie), Corvallis, Oregon (Marolyn) and Toronto (Kim, Pat. T. and me) to be part of a wonderful adventure.
The Sweet Taste of Victory
During the last week of April, 2005, history was made at Antigua Sailing Week, one of the top five yacht racing venues in the world. For the first time an all female team won their division and won the prestigious overall fleet prize. A team of nine women (whose ages average 50 years!) sailing 'Seabiscuit', a ten-year-old Beneteau 445, had the fastest racing times in a fleet of 73 boats. No luck involved here - this was a group of very talented, very fit women who were sailing a fast, well prepared boat.
Visit Our Blog
Not to be left behind in cyberspace, sailing student Jennifer Hagan has created a blog for Sistership; a place for 'EX PAT's' (i.e. any former 'Sistershippers') to post sailing experiences, sea adventures, stories, photos, insights, tall tales, outlandish fabrications, the best spots to sail, drink and anchor in all seven seas.
Antigua Sailing Week 2008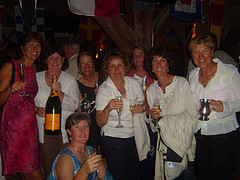 For all of our friends who may not have been watching the action online, 'Seabiscuit' has returned home from Antigua Sailing Week 2008 once again "bringing home the hardware". We raced with a crew of 10 women and we were helped immensely this year by our shore crew on our 'Fathership', C&C 38 'Pyjamas' captained by Martin and crewed by Eileen Worthley and my sister, Pam. Martin kept everything working splendidly on the boats, Eileen was our chef de cuisine, and did an exemplary job of keeping us all well fed and happy. Pam took care of details, ran errands and helped deliver PJ's to the various ports of call during the regatta.